Every great project starts with a vision
We offer designs ranging from a basic sketch of a simple feature to a complete site plan with photo realistic 3D images. Don't underestimate the importance of planning with a design professional. We can guide you through concept development and manage project execution.
Design Service Process
The first step in any successful project beings with the design. It is the first and most essential step of the development process. We take a collaborative approach and can help guide you towards your vision or create one for you. Here is a simplified breakdown of the process:
Initial Consultation and Site Analysis:

Meet with the client to discuss their vision, needs, and preferences for the landscape.
Conduct a thorough site analysis, including measurements, existing features, soil quality, sunlight patterns, and potential challenges.
Gather information on budget and timeline constraints.

Conceptual Design:

Based on the client's input and site analysis, create a preliminary conceptual design.
Present digital visualizations to convey the overall look, layout, and proposed elements of the landscape. Includes specific plant selections, hardscape materials, focal points, and functional areas (e.g., seating, pathways, water features).
Discuss design ideas and gather feedback from the client to refine the concept.

Master Plan Development:

Once the conceptual design is approved, develop a detailed master plan.
Provide optional 3D renderings or detailed drawings to help the client visualize the final design.

Construction Documentation: (Optional, for larger projects)

Prepare detailed construction documents, including technical drawings, specifications, and materials lists.
These documents serve as a guide for contractors during the implementation phase, ensuring that the design is executed accurately.

Implementation and Maintenance Plan: (Optional, for larger projects)

Collaborate with in-house installers and sub-contractors and oversee the construction phase to ensure the design is implemented according to the plan.
Provide guidance on plant installation, layout, and construction details.
Offer recommendations for ongoing maintenance and care to help the landscape thrive over time.
Effective communication is key at every step. We use visual aids such as sketches, renderings, and diagrams to simplify complex concepts. We encourage open dialogue with our Clients to address any questions or concerns they may have, and involve them in the decision-making process as much as possible. This approach will help create a postiive and more satisfying experience as we guide our clients through their landscape design journey.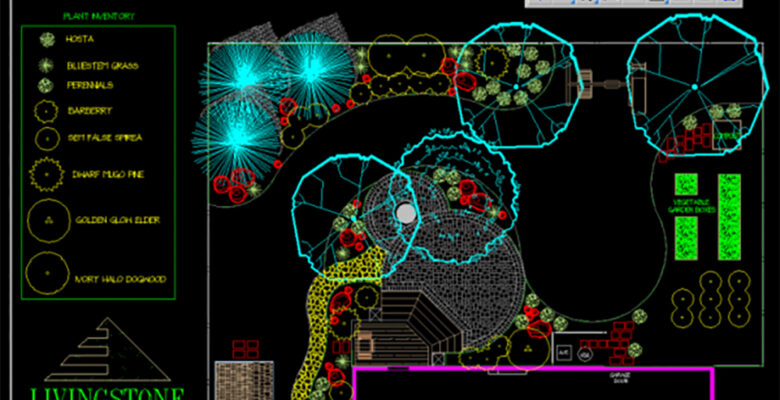 2D Plan Drawings
Our formal design plans start with a 2D drawing in a "Bird's Eye" view of your project. This drawing is the most common format that a legitimate Installer would need to estimate materials and construction costs with accuracy. One of our experienced Landscape Estimators will organize your project ideas and help you develop the overall vision for your project. Check out the "Design Service Process" for a detailed description of how the process works.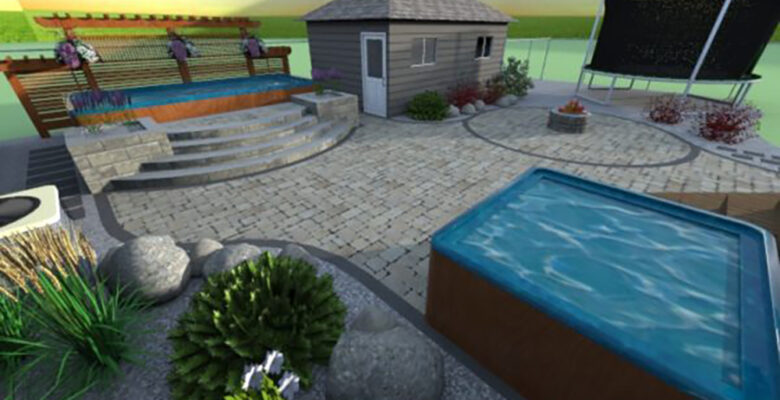 3D Renderings
The new standard of design is photo-realistic 3D. We have found it takes a highly trained person to be able to visualize a new backyard from a 2D drawing. 3D rendering solves this problem by giving you an image equivalent to walking through the project in real life. If your project has elevation changes, walls, steps, multiple grade levels, multiple features, this is what you should ask for. A design can be started as a 2D plan, and then turned into 3D afterwards so you don't need to commit to it in the beginning.